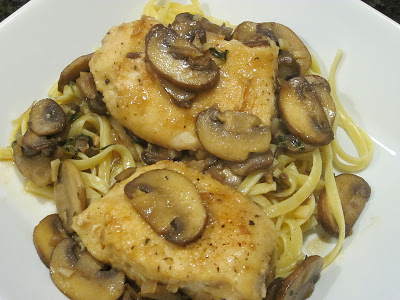 If you like sweet wine and 'shrooms, this is the recipe for you! Chicken Marsala is a simple dish to make but really comes across as an "Oh you shouldn't have fussed over me" dinner! Nice and quick too, about 30 minutes from prep to table. I recently made this dinner for Mr. John; he was quite pleased and gave it 4 stars. And as mentioned above, this is the second different recipe I've tried – the first one was from Cooking Light and though that one is also very flavorful – I would give this one a slight edge (and I'm sure a couple more calories!)
Let me know what you think!
Chicken Marsala
Serves: 4
Calories: na
Prep Time to Table: 30 minutes
Recipe : adapted from Debbie Macomber Christmas
Ingredients:
-4 4oz. chicken breasts
-1/3 c flour
-S&P
-1 T olive oil
-3 T unsalted butter
-12 ozs. Baby bella mushrooms
-1 minced shallot
-1 minced garlic clove
-2 tsp fresh minced thyme
-1 cup Marsala wine
-1 T fresh lemon juice
Preparation:
1. Pound chicken breasts about ½" thin. Place flour in bowl; sprinkle chicken with S&P and then dredge in flour being sure to shake off excess
2. Heat oil and 1 T of butter in large skillet over medium-high heat. When butter has melted, add chicken and about 4 minutes until golden brown and then turn and cook an additional 4 minutes (OK not to have cooked through). Remove to plate
3. Add 1T butter to skillet and cook mushrooms until golden brown… add more butter if it gets too dry
4. Add shallot, garlic and thyme and cook about 2 minutes until shallot get soft.
5. Add wine and bring to simmer and cook about 3 minutes until it reduces slightly. Return chicken to skillet along with any juices left on plate. Add lemon juice and 1 T butter. Warm through, stirring to combine and turn the chicken to finish cooking and coat with sauce.
6. If desired, serve over noodles.
Notes: