This was a good weekend! The newly Mr. and Mrs. wanted to visit us and our younger daughter was also coming by… We had already kind of planned getting together with a couple old friends (as in, before we all had kids!) so with the kids coming, we turned it into a "family" dinner. I had a couple new recipes I had wanted to try anyway and this was the perfect chance. We started out with a tasty beverage and some appetizers.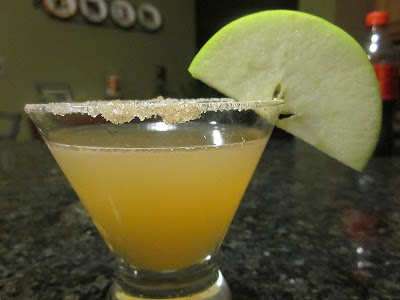 Apple Cider Martinis (recipe here)
The first course was a Butternut Squash Soup… I've been wanted to try this since my friend gave me some squash – I researched a bunch of recipes and settled on one that was roasted with apple cider and then tweaked the rest of the ingredients. This was a hit and what Danielle had suggested was making a topping to put on top so I made one that we have when I make pumpkin soup (from Rachel Ray). It was the perfect thing to add!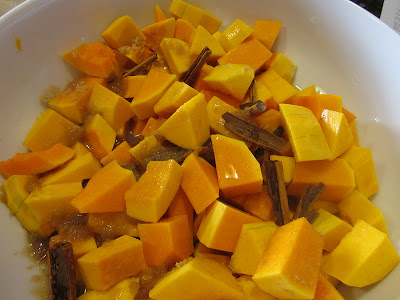 The squash is tossed with apple cider, brown sugar and cinnamon stick before baking
I used this hand blender to puree the soup – I've had this well before they have become popular!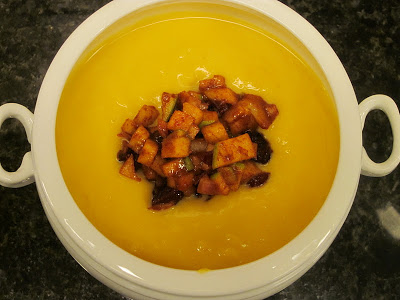 Topping-granny smith apples, craisins, red onion, chili powder, sugar and cinnamon-just the right spices to kick it up a notch!
The second course was a salad made with baby romaine lettuce, pears, craisins, toasted walnuts and bleu cheese tossed with a Maple Vinaigrette dressing… this was really yummy. (recipe here)
After the salad we had the main course – a Chicken Wellington and then a Pumpkin Tiramisu for dessert… I'll be sharing these recipes soon!
It was a fun dinner – so glad the family came for a visit and the newlyweds have invited us to their place for Thanksgiving! This will be a nice treat and I'm looking forward to it!
The tablescape…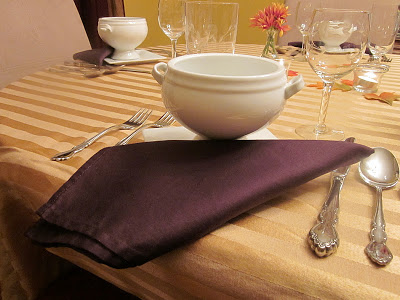 We even used the napkins from the wedding…thanks Danielle for ironing them!