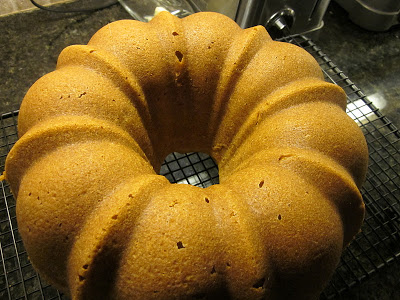 Na-ked cake
As promised – here is the recipe from last night's Book Club dessert. It was fitting that the recipe came from one of my favorite authors – Debbie Macomber – she writes a ton of books but the series I like(d) best is called Cedar Cove. There are about 14 books in all and she just ended the series this past month. I am really going to miss them. I got to "know" all the characters and looked forward to every fall when the next book was out. In addition, she has written 2 cookbooks and the recipe this came from, is from her new cookbook that recently came out. If you ever want to get to "know" the Cedar Cove bunch, I own them all and you can "check" them out!
The dry ingredients are whisked together and set aside
Next the butter and sugar are beat together
Eggs are added one at a time
Next the buttermilk and dry ingredients are alternated until blended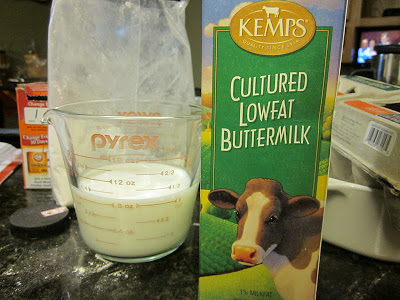 "It's the cows!"
Last the pumpkin and vanilla are added
Pour into prepared pan (NOTE – it calls for an extra large bundt pan – I didn't have so I did not put all the batter in)
Bake at 350 for about an hour
Flip and then drizzle the glaze…
The author
Be sure to check out her Cedar Cove cookbook too! It is awesome!
Great Pumpkin Cake with Cinnamon Glaze
Serves: 16
Calories: NA
Prep Time to Table: 20 min prep; 60 min baking
Recipe : Debbie Macomber's Christmas Cookbook
Ingredients:
-4 cups cake flour
-4 tsps baking power
-1 tsp baking soda
-1 tsp salt
-1 tbl ground ginger
-1 tbl cinnamon
-1 tsp nutmeg
-1/2 tsp cloves
-1 c unsalted butter softened
-2 ½ cups sugar
-4 large eggs
-1 cup buttermilk
-1 can (15 oz) pumpkin
-1 tbl vanilla extract
Glaze:
-I cup XXX sugar
-1/2 tsp cinnamon
-2-4 tbls heavy cream or half and half
Preparation:
1. Preheat oven to 350; generously butter a 12-14 cup bundt pan; dust with flour and tap out excess
2. Whisk flour, baking powder, baking soda, salt, ginger, cinnamon, nutmeg and cloves – set aside
3. In large bowl beat butter and sugar on high until fluffy. Add eggs one at a time and beat well after each. Reduce speed to low and alternate the dry ingredients with the buttermilk until just combined. Add pumpkin and vanilla and beat until combined and pour in bundt pan.
4. Bake for 1 hour and a toothpick comes out with a few moist crumbs when inserted in the center. Cool on wire rack and let cool 30 minutes. Carefully turn cake on rack to cool completely
5. Glaze: whisk sugar, cinnamon then whisk in cream until desired consistency. Drizzle over cake
Notes: if you don't have an extra large bundt pan do not put all filling in pan…it would overflow