Here's another dish from the BH&G Ultimate Italian, which should also read ultimate calories! According to the recipe, one serving is 800 calories. I normally try to stay around 500 calories for dinner but was curious to see what this was like and must say it was VG and very rich. I told Mr. J that this would make a good "small plate" to share and he said no, and proceeded to have another helping. His rating for tonight was a strong 4.
The ingredients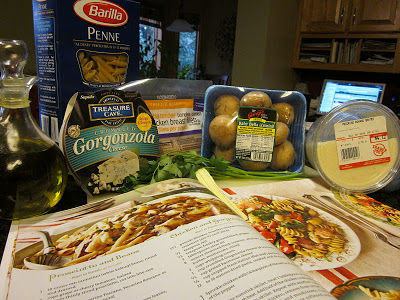 Oh and whipping cream that didn't make the picture
Chicken is cubed, seasoned and sauteed in EVOO. Remove from the pan and saute cremini mushrooms
Return all to pan and add cream
Toss with gorgonzola cheese, parmesan cheese, pasta and parsley…
Note to self: must get to gym tomorrow!