More wedding stuff! We made our own programs – simple, printed on white card stock, rounded the edges and glued a flower and pearl on top. We were working on these the day beforehand in our hospitality room. Anyone who stopped by had a hand in helping!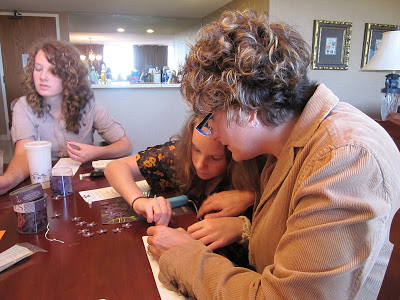 John's sister Carla and her girls Demi and Katarina got in the act!
Since we had choices for the meal, we needed place cards with indicators. Wilton carries printable place cards and then for those having chicken I added a small flower; salmon cards were blank. Benj created a mail merge file so they were super easy to print off for our 165 guests!
I have to say I loved our flowers. We hired a florist and also had my friend Cheri work on the outside venue and some of the tables. I made table linens – subtle but wanted to add something for them to sit on. We had 18 guest tables – 3 of each arrangement (click here to hop over to Cheri's blog to see how it all came together – I so appreciated her special touch-everything was perfect!)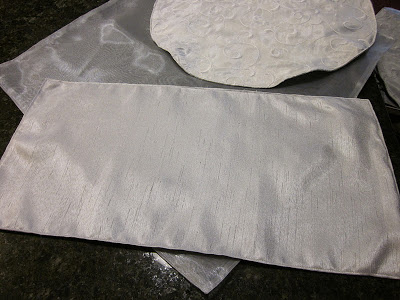 Can't remember what this fabric was called but had nice texture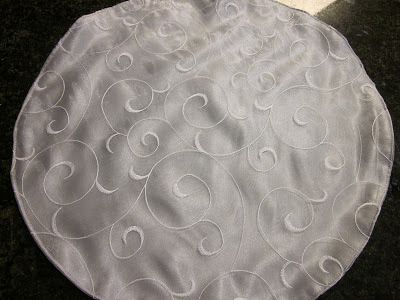 White sheer fabric over silver satin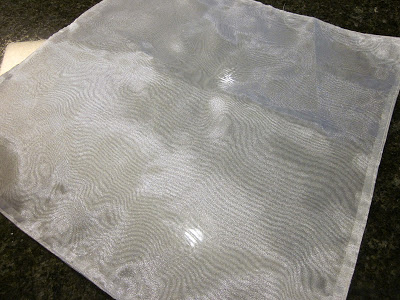 Sheer silver fabric-doubled
I have one more item to show you soon!