Mostly my breakfasts are pretty boring – cereal – either Cheerios or Frosted Mini Wheats – again pretty boring. But this weekend I had a craving for an "Egg McMuffin". An interesting fact – I worked at McDonald's as a teen (X number of years ago!) And I have first hand experience on how they were made from scratch. I bet now everything is pre-made and nuked before you buy.
So here is my recollection of how these were made. Heat some eggs rings on a griddle sprayed with PAM
Break an egg into each and then take a knife and break up the yolk
Let the egg cook and before flipping it over, run a knife around the inside edge and start heating the canadian bacon on the griddle and toast the muffin – only the Thomas brand will do and fork split it…
Top the egg with the bacon and a slice of american cheese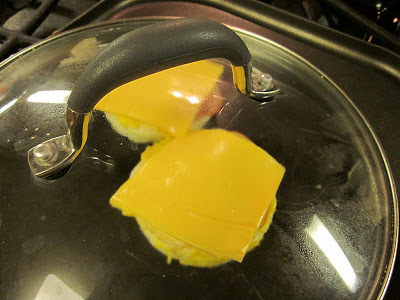 I place a lid over to help the cheese melt faster
Butter your English muffin and top with the egg and it is done. It hit the spot for me and Mr. John!
Monday back to cereal…