My omelette making was inspired by Perkins. I like how theirs are made; all wrapped up with filling inside. So I set out to duplicate the look with the ingredients I had on hand – eggs and peppers.
Diced the peppers and nuked for a little bit to soften them up.
I heated a square griddle pan, sprayed with some Pam and added 3 well beaten eggs
Placed the peppers, some cheese and cooked until the egg is just about set but still pliable.
Then turned in the sides and rolled it in thirds…a little tricky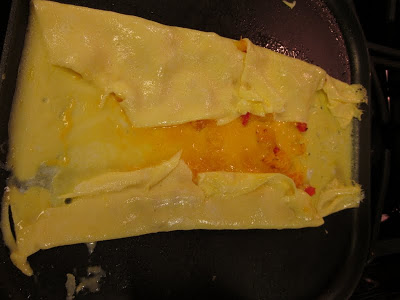 Not so pretty looking!
Here is my final product
And here is Perkins
I guess I could have made mine fancy by putting some toppings! It tasted just fine and sometimes we eat these for dinner!