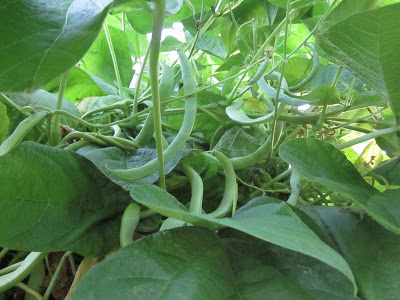 Italian Green Beans
Tonight's dinner consisted of 3 things – something:
1. bought (roasted chicken)
2. nuked (90 second Uncle Ben's rice)
3. prepared (Italian green beans)
We have lots of Italian pole beans and it is either use them or lose them time! I worked late tonight so on the way home I picked up a Target chicken (thanks Kari for leaving me one), set it on the counter, pulled out some rice to nuke and then started preparing the beans. I grew up eating them steamed, then tossed in olive oil, fresh parsley, fresh garlic and some S&P. Love these!
Mr. John and I both plated our own meals tonight… can you tell who's is who's?
And here is our giant beanstock – Mr. John had to tie it up!