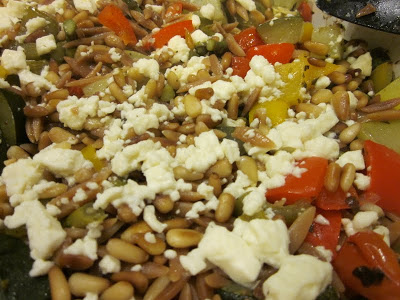 You know this dish had to be pretty special if John gave it 4.5 stars! He has been stingy with the ratings lately so I'm glad he enjoyed this dish. On Wednesdays in our newspaper is a publication called American Profile.
Started with these fresh ingredients (and we actually found a zucchini in our garden that wasn't the size of a baseball bat!)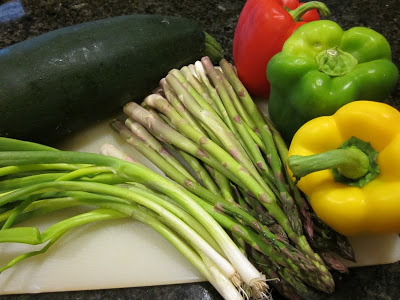 The veggies are chopped, tossed with olive oil and Italian seasonings and then roasted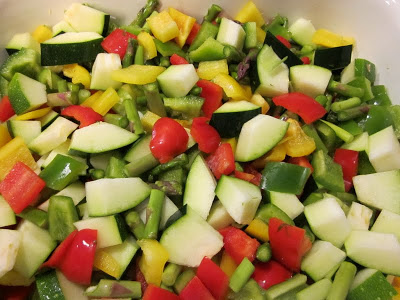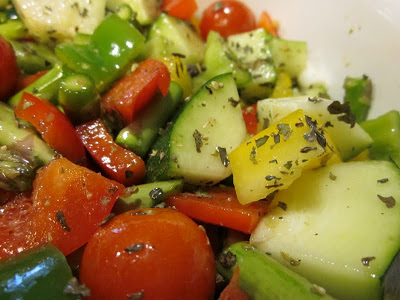 Meanwhile prepare the orzo pasta by first sauteing it in olive oil (the flavor from doing this is amazing) and then simmer with chicken broth until liquid is absorbed.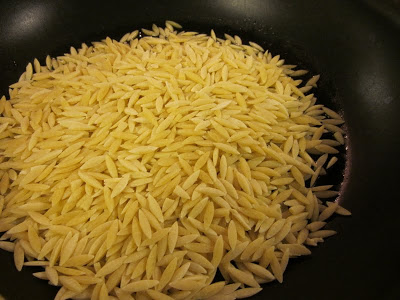 Raw
Sauteed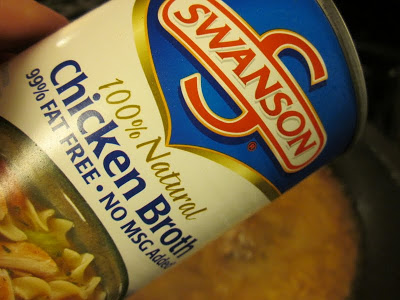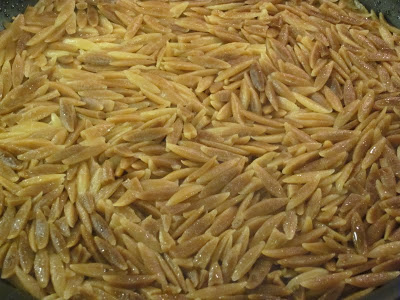 Finished product
Toast pine nuts (this is done in a dry pan over medium heat)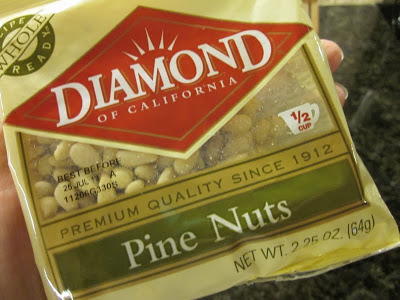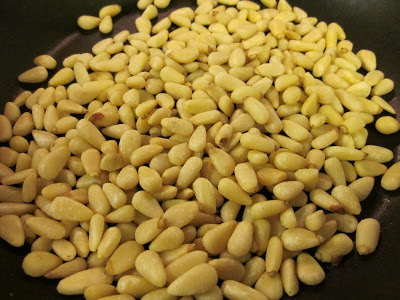 Once veggies are roasted, mix in orzo and top with feta and pine nuts – cover and bake for about 25 minutes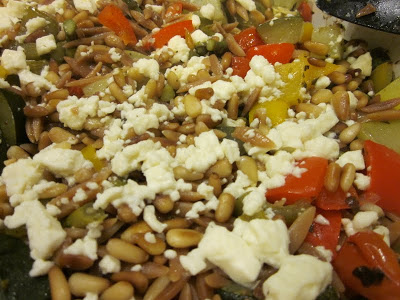 This was really good! I'm calling the leftovers!
Roasted Veggies with Orzo
Serves: 6-8
Calories: NA
Prep Time to Table: 75 minutes
Recipe : Newspaper insert-American Profile (adapted)
Ingredients:
-1 lb. asparagus, trimmed
-3 bell peppers (red, green, yellow)
-6 green onions
-1 cup cherry tomatoes
-1 medium zucchini (scoop out seeds)
-4 tbls olive oil
-1 tsp minced garlic (from jar)
-1 tbl Italian seasoning
-3/4 tsp salt
-1/8 tsp fresh ground pepper
-1 cup orzo
-2 cups chicken or vegetable broth
-1/2 cup pine nuts toasted
-3/4 cup crumbled feta cheese
Preparation:
1. Preheat oven to 375
2. Cut vegetables (except tomatoes-leave whole) into bit sized pieces and place in 9×13 baking dish. Add 2 tbl of olive oil, garlic, seasoning and S&P. Toss well and roast about 30 minutes until tender
3. Add remaining 2 tbl oil to medium skillet; add orzo and sauté until brown. Add broth, bring to boil, cover and reduce heat to low, cook until liquid is absorbed.
4. Add orzo to roasted vegetables, mix well. Sprinkle with pine nuts and feta; cover with foil and bake for 20-25 minutes.
Notes: