School's just around the corner and back in the day when the girls were in school I made a special treat for the first and last days. Big chocolate chip cookies… the girls loved this tradition and I carried it through until Danielle graduated in 2006. Today I'm heading to see Danielle and her new apartment and thought I'd surprise her a treat. Here's a look from years past of some of the ones I made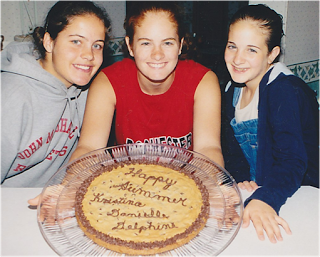 This is the year we had an exchange student, Delphine, from France
What traditions do you have or want to start??
To make a big cookie follow these instructions – start with a regular recipe of toll house cookie dough, a 12″ Wilton cake pan that is greased very well, put the dough in (about 3/4 of the recipe) and leave about 1″ around the edges… the cookie will bake out to the edge but the crust edge won't be too hard or dark.. Bake at 350 for about 20-22 minutes – keep checking and it is OK for the dough to still be soft – it will harden when it cools and again you will have a nice texture. Cool in the pan for about 10 minutes, run a knife around the edges and invert onto plate and flip again. When cool decorate with store-made frosting… really easy and very delicious too!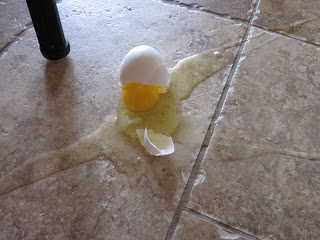 ooops!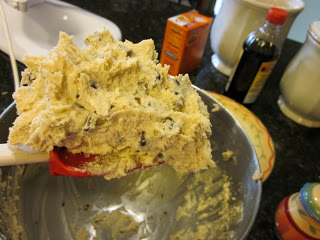 Leftover dough…
Danielle was very surprised and loved it!