It's time for dessert! Did you clean your plate tonight before you indulge! We had 5 yummy desserts to tempt our shower guests… The first recipe was from Pampered Chef that is normally made in a springform pan but I doubled it and put it in small martini glasses (that are from Crate and Barrel). This recipe has been requested by Kristina for her birthday for at least the past 6 years (Benj made it for her this year – guess it is time to pass the torch!)
The next two are Italian cookies that have been in the family for years. I'm not sharing the recipes now but may do so in the future 🙂
We call these Nana cookies – they are a recipe from John's Grandmother. They are little pillows of heavenly flavor that make me think of Nana and how she made them for us.


The pink cookies are from my grandmother who we called Nonni. These are Kristina's favorite and called Cherry Nut cookies. They have a maraschino cherry and walnut in the middle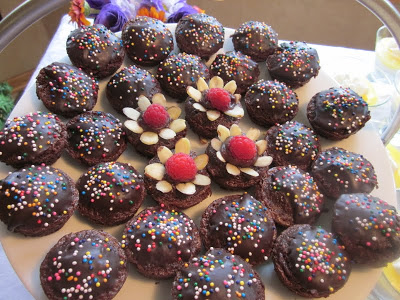 Brownie Bites
Benj really liked these brownie bites (we let the guys eat after the shower!) This recipe is from Pillsbury (click here for the recipe)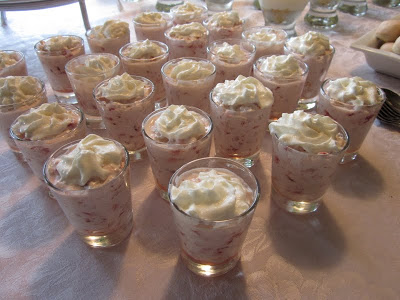 Strawberry Shooters
Lastly we had this strawberry dessert made in small shot glasses. (click here for this recipe)
Nice variety of desserts and NOT much leftover!
Kristina loved her shower – a lot of her favorite foods were served. Her bridesmaids gave these party favors to the guests.
The shower is done – and now onto the wedding a mere few weeks away!