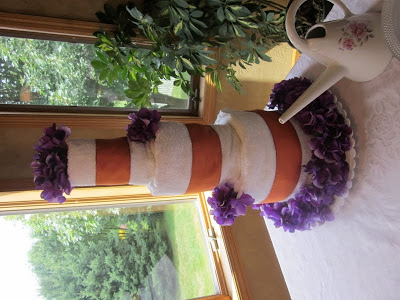 The
Matron of Honor made this "towel" cake in the wedding colors. The
ceramic watering can is from my shower back in 1983 that my mom made.
This past Saturday was Kristina's bridal shower. It was a great time! We had a lot of good friends and family (even from Florida and Pennsylvania!) And of course lots of food – here is some of what was served… these are pretty simple. Throughout the week I will be posting more food with recipes.
Veggie tray – note the purple cauliflower – "dip" bowl made from an artichoke
Mini Caprese Salads – I took cherry tomatoes, cut in half, a leaf of basil wrapped around a mozzarella ball and skewered and drizzled with olive oil and S&P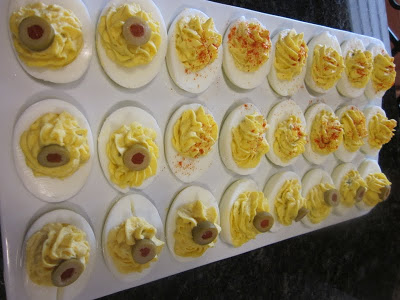 Deviled eggs
Mini BLT bites – toasted bread with lettuce, a cherry tomato slice and a mixture of mayo and cooked bacon bits (1/3 cup of each) Note: cook own bacon and chop fine


Roast Beef Sandwiches – a baguette sliced vertically – a horseradish mayo, arugula, thin sliced med. rare roast beef


Mini Ham Sandwiches – found these excellent pretzel rolls at Breadsmith Bakery in Minnetonka – then added ham and swiss cheese with choice of honey or stone ground mustard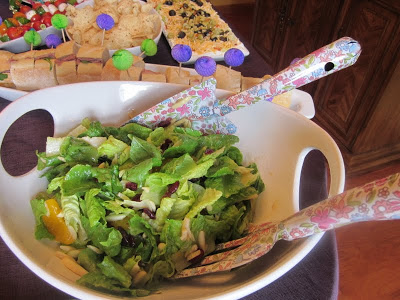 Asian inspired salad – romaine lettuce, mandarin oranges, slivered almonds, craisins and a toasted sesame dressing from Macy's (notice the cute serving utensils!)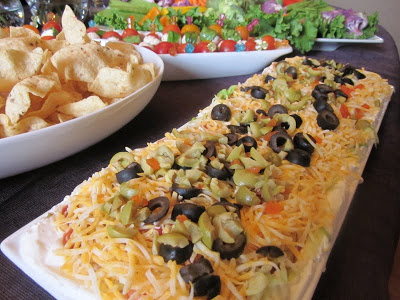 Taco dip – one of Kristina's favorites!
Well, that is it for tonight – I've missed not being able to post this week but had much to do including trying out some new "do's" for the wedding…. the jury is still out on how I should wear my hair.
Still to come – more food (hey, we are Italian and like to eat) including desserts!