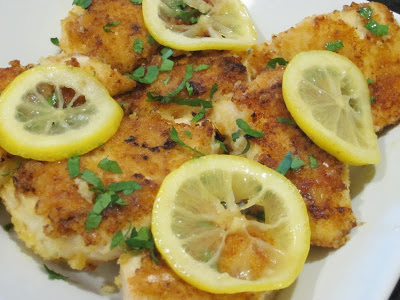 Chicken Piccata
Hot enough for you? It's so hot that I don't even feel like grilling so tonight in the nicely air conditioned house I made this quick and easy chicken dish from the Spring Kraft Food and Family magazine .
The chicken is spread with some Olive Oil Mayo and then pressed in finely crushed Ritz crackers… I was a little skeptical but the end result was really good!
The chicken cooks in olive oil until browned and cooked through
Lemon juice, chicken broth and butter makes up the yummy sauce
When everything is all done, spoon sauce over chicken and sprinkle with fresh parsley
Dinner is served and Mr. John gave it 4.5 stars!
Easy Chicken Piccata
Serves: 4
Calories: 370
Prep Time to Table: 40 minutes
Recipe : Kraft Food and Family Spring 2011
Ingredients:
-2 large lemons
-4 4 oz.boneless chicken breasts
-1/4 cup Kraft Mayo with Olive Oil (reduced fat)
-22 Ritz cracker finely crushed
-2 tbls olive oil
-2 tsp chopped fresh parsley
-1/2 cup chicken broth
-1 tbl butter
Preparation:
1. Coat chicken with mayo and coat with crumbs
2. Heat oil over medium-high heat; add chicken and cook about 5 minutes on each side until brown and cooked through
3. Transfer chicken to platter and keep warm.
4. Remove crumbs from skillet
5. Cut 4 thin slices of lemon and set aside
6. Juice remaining lemons and add to skillet along with broth and cook about 6-8 minutes until slightly reduced.
7. Add lemon slices and butter and heat over low until butter is melted.
8. Pour over chicken and sprinkle with parsley