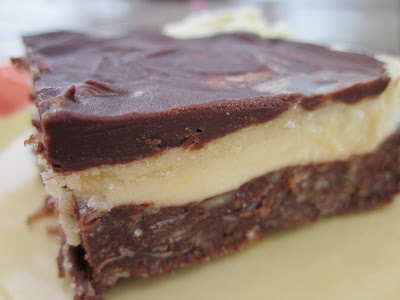 Nanaimo Bars
In a recent conversation…
Kari: I found these new bars that I like, I don't even like chocolate but I like these, here's a recipe, could you try to make them?
Me: Sure, I'm up for the challenge (reading recipe) What's custard powder… wonder what could be substituted?
Next day googled the bars and found that I could probably substitute instant vanilla pudding or order the custard from Canada…OK I'm ready to try them but first I'll go on facebook….and just happen to find out that my friend Sherry is going to Canada in a couple days and yes, she will bring me back some custard! Sweet!
So now I'm really ready to make them but then either I'm gone or Kari is gone so I was finally able to make them this week!! So here we go…. the first layer uses the following
Low cal so far, right not!
Now time for the second layer and the famous custard, special delivery from Canada….
And the rest of the ingredients
The final layer is semi-sweet chocolate and more butter
The bars are delicious and decadent!
On a side note: here is the history of the bars… I personally had never heard of them. So not only are you getting a recipe – you are getting a history lesson tonight 🙂
http://en.wikipedia.org/wiki/Nanaimo_bar
Nanaimo Bars
Serves: 12
Calories: NA but seems like lots!
Prep Time to Table: 45 minutes plus sitting time
Recipe : web
Ingredients:
Bottom Layer
-1/2 cup unsalted butter
-1/4 cup sugar
-5 tbls cocoa
-1 egg beaten
-1 ¼ cup graham cracker crumbs
-1/2 cup finely chopped almonds
-1 cup coconut
Melt first 3 ingredients in top of double boiler. Add egg and stir to cook and thicken – stirring constantly. Remove from heat and stir in remaining ingredients. Press firmly in 8×8 ungreased pan
Second Layer
-1/2 cup unsalted butter
2 tbls and 2 tsps heavy cream
-2 tbls vanilla custard powder
-2 cups powdered sugar (sifted)
Cream all ingredients well until light and fluffy and spread over bottom layer
Third Layer
-4 ozs semi-sweet good chocolate (ie Ghirardelli's)
-2 tbls unsalted butter
Melt chocolate and butter over low heat – cool slightly and pour over second layer and chill in refrigerator until set.
NOTE: better served at warm temperature and easier to cut