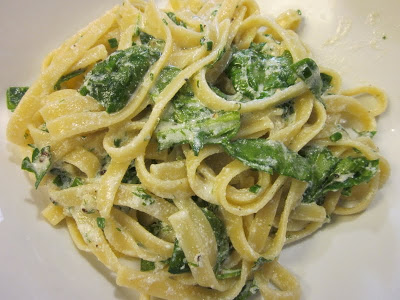 Pasta with Spinach, Herbs and Ricotta
Cooking Light magazine had this recipe on their April issue cover. It looked very fresh and light so I put it on my list to try and tonight was that night (though slightly modified)! I wish I had found the pasta it called for – pappardelle – a wide ribbon pasta but I think I would have needed to go to a specialty store like Zzest to find some, It worked with the fettuccine though.
From the garden that I didn't want this year (yes, John you were right to plant), I had my own parsley and chives. The other herb was fresh dill.
Added to the herbs, is baby spinach (or in this case I used regular and chopped a bit), olive oil and pecorino romano cheese with some S&P to taste
The pasta is weighed (I'm counting calories!), cooked and some of the water is reserved to mix with the ricotta cheese
The hot pasta, cheese mixture and other ingredients are gently tossed and then dinner is ready
John gave this 3.5 stars tonight!
Pasta with Spinach, Herbs and Ricotta
Serves: 2
Calories: 450
Prep Time to Table: 30 minutes
Recipe : adapted from Cooking Light
Ingredients:
-6 oz. pasta (wide like fettuccine or pappardelle)
-1/3 cup whole-milk ricotta cheese
-1 ½ cups baby spinach
-2 tbls chopped fresh chives
-2 tb;s chopped fresh Italian parsley
-2 tbls chopped fresh dill
-2 tbls grated pecorino romano cheese
-1 tbl olive oil
-S&P to taste
Preparation:
1. Cook pasta; drain and reserve ¾ cup of water
2. Combine about ¼ cup hot water with ricotta in a food processor and blend until well blended
3. Combine all ingredients in a large bowl and toss gently; adding more hot water if necessary to moisten
Notes: Pasta needs to be hot when combining so have all ingredients ready to go!