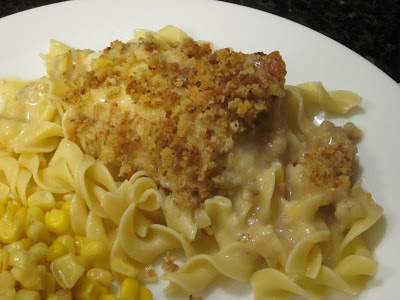 No Name Chicken
Another subpar summer day put me in the mood for some comfort food. This is typically a "fall/winter" dish but a rainy, cool day was a good excuse to use the oven again!
Very easy to do – take some boneless chicken breasts and put in a baking dish. I cut the chicken in small pieces. Take a can of cream of chicken soup and mix with a half can of milk and pour over chicken.
The topping is 2 cups of herb seasoned stuffing (Pepperidge Farm) mixed with 6 tbls. of melted butter and put on top of chicken; bake at 375 for about 30-40 minutes until is lightly browned. Serve over egg noodles… John was excited for this meal – another one of his favs and 4+ stars!
Oh and rain, rain – please go away!