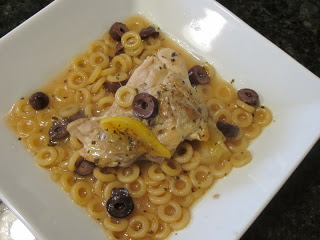 Lemon Chicken with Kalamata Olives
This dinner was quick and easy and if you love lemons, you'll enjoy the flavor of this dish. The only thing I thought I had in my "pasta parade" was orzo but I did not so I substituted a smaller type pasta… it worked!
The ingredients-only 6!
Brown chicken
Add remaining ingredients to a 2 quart casserole dish and place chicken on top and sprinkle with S&P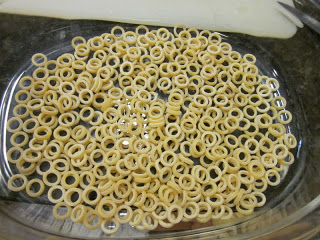 Pretend I'm Orzo
John gave this dish 3.5 stars – he said he would have given it 4 but there were too many olives for his taste!
Lemon Chicken with Kalamata Olives
Serves: 4
Calories: 310
Prep Time to Table: 45 minutes
Recipe : adapted from BH&G
Ingredients:
-1 ¼ lb. skinless, boneless chicken thighs
-1 Tbl olive oil
-2/3 cup dried orzo
-1/2 cup sliced kalamata olives
-14 oz. chicken broth
-1/2 lemon cut into wedges
-1 Tbl lemon juice
-1 tsp dried Greek seasoning
-S&P
Preparation:
1. Preheat oven to 400
2. In large skillet add olive oil and heat over medium-high heat. Add chicken and brown for 5 minutes turning only once
3. In 2 quart baking dish add remainder of ingredients and place chicken on top. Cover and bake for 35 minutes.
Notes: