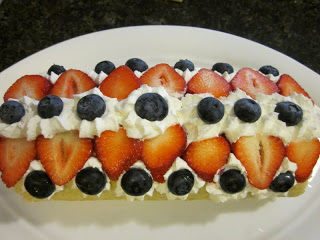 Fresh Strawberry Cake Roll
Today we were invited to our friends MJ and Dave's for a Memorial Day cookout. I offered up dessert and of course I had red, white and blue on the brain. I've made pumpkin rolls before so was up for the challenge to create one with strawberries as the main event. I found a basic sponge cake recipe and then created a filling with some of my favorite ingredients.
The cake ingredients
Prepare the dry ingredients (uses cake flour that is sifted)
Prepare the wet ingredients
I also decided to add some grated lemon
Combine and spread in a jelly roll pan that has been greased, lined with wax paper and greased again
As soon as it comes out of the oven, run a knife around edge and invert on a towel that has powdered sugar on it, remove wax paper, trim edges a bit and roll up in towel and let cool completely
Prepare your berries
Prepare filling
I keep my mixing bowl/beater in the freezer for about 5 minutes…this works great for whipping cream
All ingredients are combined and whipped together
Unroll sponge cake, spread some of the filling and strawberries and roll up again. Cover with plastic wrap and let sit in refrigerator for at least 2 hours
Decorate how you wish… be creative!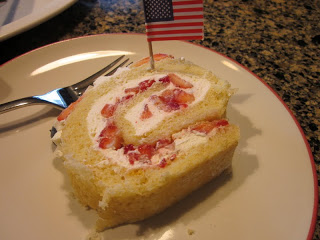 5 Stars! (and stripes….)
Also now that Memorial Day has arrived – you are now allowed to wear white pants and sandals….but only until Labor Day!!!
Fresh Strawberry Cake Roll
Serves: 10
Calories: NA
Prep Time to Table: 25 min plus baking and cooling
Recipe : Hybrid of 2 different internet recipes
Ingredients:
Cake:
-4 eggs
-1 tsp vanilla
-3/4 cup sugar
-3/4 cup sifted cake flour
-1 tsp baking powder
-1/4 tsp salt
-grated lemon peel (optional)
-Confectioners' sugar
Filling:
-2 cups heavy cream
-8 oz. mascarpone cheese
-1/2 tsp vanilla
-2 Tbl sugar
-2 Tbl confectioner sugar
– 1 tsp fresh lemon juice
-1/2 tsp grated lemon peel
-about 2 cups small diced strawberries
Preparation:
1. Grease jelly roll pan; line with wax paper and grease again
2. In bowl, beat eggs with vanilla on high speed for 5 minutes or until lemon colored; gradually add sugar and beat until dissolved
3. Combine flour, baking powder and salt; fold gently until just combined with egg mixture
4. Spread evenly in pan and bake at 375 for 10-12 minutes or until light brown
5. Run knife around edges, invert on towel that has been dusted with confectioner's sugar; peel off paper, trim off about ½" around each edge (crispy part) and roll up cloth and cool (Do all this part rather quickly so cake does not get stiff)
6. Filling: combine all ingredients and whip until smooth and thickened (stiff peaks)
7. Unroll cooled cake and spread with half of filling mixture; sprinkle with strawberries. Roll up, wrap in plastic wrap and chill at least 2 hours
8. If desired, frost with remaining filling and decorate with additional strawberries (or dust with confectioners' sugar – if you do this, make only half of filling)
Notes: