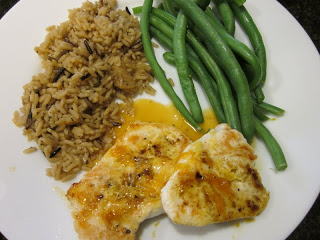 Chicken with Apricot-Lemon Glaze
Today was the first day I set foot inside Target in 6 days! That has to be a record as I'm normally there about 3-4 times a week! It is also the first time I've cooked in 6 days…that might be a record too. Earlier today I quickly did a search for a dinner with less than 5 (major) ingredients and this recipe popped up. It was super fast and super delicious. I'm starting a new category called "company worthy" because this definitely was.
The ingredients
Prepare the chicken
Rub with curry powder, salt and fresh pepper
Zest and juice a lemon
Cook chicken
Make the glaze out of the apricot spread, water and lemon juice and spoon over chicken and top with zest
A 5 star dinner!
Chicken with Apricot-Lemon Glaze
Serves: 4
Calories: 250
Prep Time to Table: 20 minutes
Recipe : Adapted from MyRecipes (Web)
Ingredients:
-1 tsp curry powder
-1/2 tsp salt
-1/4 tsp fresh ground pepper
-4 6 oz. skinless, boneless chicken breasts
-Cooking spray
-1/3 cup apricot jelly spread
-2 tbls fresh lemon juice
-2 tbls water
-2 tsps grated lemon rind
Preparation:
1. Combine first 3 ingredients and rub over chicken
2. Heat skillet over medium-high heat that has been sprayed. Cook chicken about 6 minutes on each side, remove and keep warm
3. Add spread, lemon juice and water to pan and stir until smooth. Cook 1 minute
4. Spoon sauce over chicken and sprinkle with lemon rind
Notes: