I'm a book worm…so this was right up my alley. Love to read – Love my new Kindle and own so many books that I could start my own library!
The year was summer of 2007 – 2 of my friends had their last child heading off the college. With all their anticipated "free" time an idea of a book club materialized. Myself along with 2 other empty nesters were asked to join in. We met in August (some of us for the first time) to discuss what the book club would be like, how would we choose the books, where would we meet, etc.
We came up with the idea of each taking a turn selecting a book and then rotating the houses to meet at. This worked fine for awhile but then we could never remember who's turn was next, who's house etc., so we started keeping a diary and list of rotations. It mostly works but sometimes it can still get kind of comical. Once 4 of us went to one's persons house only find it dark and empty and that person went to my house thinking it was there. Since we were suppose to discuss The Girl She Used to Be (about the witness protection program), we joked that this is what happened to our friend and had a good laugh over it!
The hosting person writes down what we thought of the book, what food was served and any other interesting tidbits. We've even gone to a couple movies – we read The Time Traveler's Wife then saw the movie – 2 thumbs down; 3 thumbs up. We saw Eat, Pray, Love (not an official book club pick but most of us had read it) and beforehand ate at Olive Garden and talked about 3 things on our bucket list (ummm I said I wanted a small tattoo – it is still on my list!) We also read the book Honolulu (about mail order brides from Korea) and had a Korean guest prepare us authentic food. Next up will be Water for Elephants. This summer will mark 4 years and we are approaching 30 books.
So those of you thinking of starting a book club – go for it! It doesn't take much to get it started and you will get to read some great, interesting and "why did we pick this" books; get to know your friends (or new friends) better and enjoy a night of food and a glass of wine!
Click
here
to see the list of books we have read or what's coming up. I would be interested to hear if any of you out there are in a book club and what yours is like.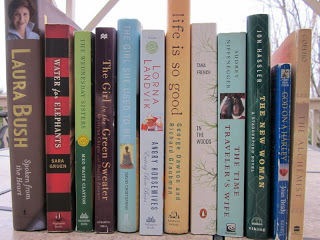 Some of the books we have read